4 Key Lessons from Female Cannabis Entrepreneurs
At a gathering of more than 40 people in downtown Vancouver, an informal panel of women discuss their success in the cannabis industry.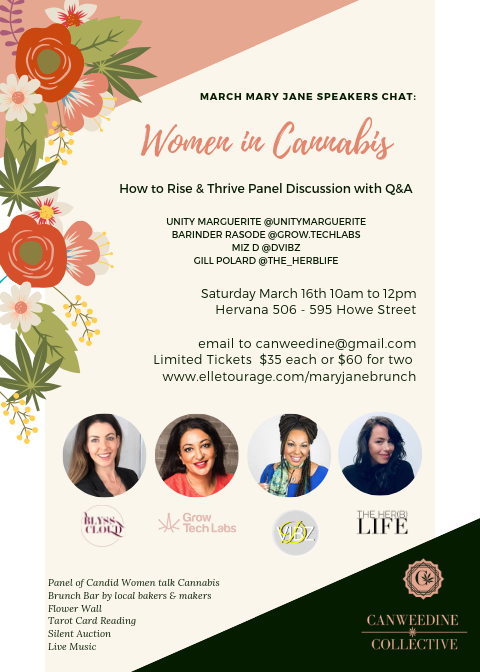 It's called The Mary Jane Brunch, and it's hosted by cannabis collective Canweedine. It's described as an 'informative, casual and a safe space to ask questions and be supported by like-minded women.' Each month centres on a new theme, new speakers, and new opportunities to build relationships.
The topic for March was 'How to Rise and Thrive as a Woman in the Cannabis Industry'. The echoed directive: if you want it, take it, no one is going to hand it to you.
The panelists each bring their unique stories to the fore. They have faced various challenges and held diverse opinions, yet every one of them attributes their success to working alongside other women and men in the industry, learning from their mistakes and forging ahead no matter the odds.
The cannabis industry is still developing and is ripe for the taking, particularly for women. We make up 90% of household decision making, 50% of cannabis consumers, and 100% of the brains behind great ideas… Just kidding.
Jokes aside, women make up much of the global workforce, yet they hold just a small portion of executive positions. While the cannabis industry has been praised for its high percentage of female led companies, which was once estimated at approximately 36%, that number that is now closer to 27%, and could be even lower according to some sources.
The reality is that the birth of a legal cannabis market comes with a large injection of capital investment, along with a side of capital culture. A culture that is traditionally dominated by male executives.
Even so, this doesn't necessarily mean women are destined to be cut out of cannabis business, but it does mean that we have our work cut out for us. If the turnout to the Mary Jane brunch is anything to go by, there are quite a few women keen on making their mark in this industry. Building relationships, supporting one another and collaborating, are strategies at which we can excel.
So, if you're working in the cannabis space, just starting out or have a great idea, here's what I learnt from the Mary Jane panelists that might help light a fire under your feet.
Barinder Rasode
CEO of Grow Tech Labs, Founder of NICHE Canada, Editor in Chief of BotaniQ Magazine.
Wrap your head around this - 80% of men will apply for jobs where they meet 60% of the criteria, while only 60% of women will apply for a job where they meet 80% of the criteria.
Barinder is a leader and entrepreneur focused on solutions. The number of women applying for and receiving traditional cannabis venture funding is dwindling, which has led some entrepreneurs to create female-led funds to offset this problem. Barinder co founded Grow Tech Labs, a cannabis industry incubator, with a mandate for women run business.
Gill Pollard
Co Founder & Chief Creative officer Her(B) Life, Executive Producer Sessions Podcast and Co Host High Friends Podcast.
Her approach - Finding great people. Gill says the key to the Her(B) Life's success was supporting people with good ideas and skills that aligned with her own and bringing them into the fold (or wriggling into theirs!)
When Gill first started the Her(B) Life as a blog, most media focused on a hyper sexualised image of women and weed and there was little in the way of a diverse or even realistic representation of women in cannabis. This led Gill create a magazine that she, as a female cannabis consumer, could relate to.
Unity Marguerite
Creative Director of BlyssCloud, Co host of the Cobb & Unity Podcast.
Industry Observation - Influencers, media personalities and individuals looking to establish themselves as thought leaders in the space are in a unique position as current legislation restricts brands and licensed producers from talking about cannabis. Sharing information, guiding consumption and talking about your own experiences is the first step to building your own platform while being a much needed voice for consumers.
We all know the archetypal image of the stoner. We also know that this image could not be farther from the truth. Diversity in voices, sharing personal cannabis experiences, subverts the widely accepted narrative surrounding the plant. This type of collective action helps to lessen the stigma of cannabis consumption by providing realistic and relatable representations of cannabis consumers.
Danielle Jackson, aka Miz D, aka Doprah.
CEO of DVibz, Co founder of Canexions, artist, advocate and serial entrepreneur.
In one line - Bring your own seat to the table, because no one is going make room for you.
What does it take to be one of the most recognisable figures in the Canadian cannabis industry? Persistence and a belief in oneself. Success isn't an overnight phenomenon, it takes years of learning, developing ideas, building relationships and honing your skills. Only you can start this process and resolve to never give up.